Case Study on MR MARVIS' D2C Strategy (English Version)
In our series of case studies, today we present the case study on MR MARVIS. Founded in 2016, this Amsterdam-based fashion company is a good example of direct-to-consumer (D2C) strategy.
With this approach, manufacturers or brands aim to reach and engage a target group directly via online marketing and social media without intermediaries or retailers. Direct-to-consumer is becoming increasingly successful as the pandemic has accelerated the massive shift of sales to digital and social sales channels. MR MARVIS forms an interesting case to answer the following question: what are the success factors when launching a new fashion brand with the D2C strategy in a saturated market?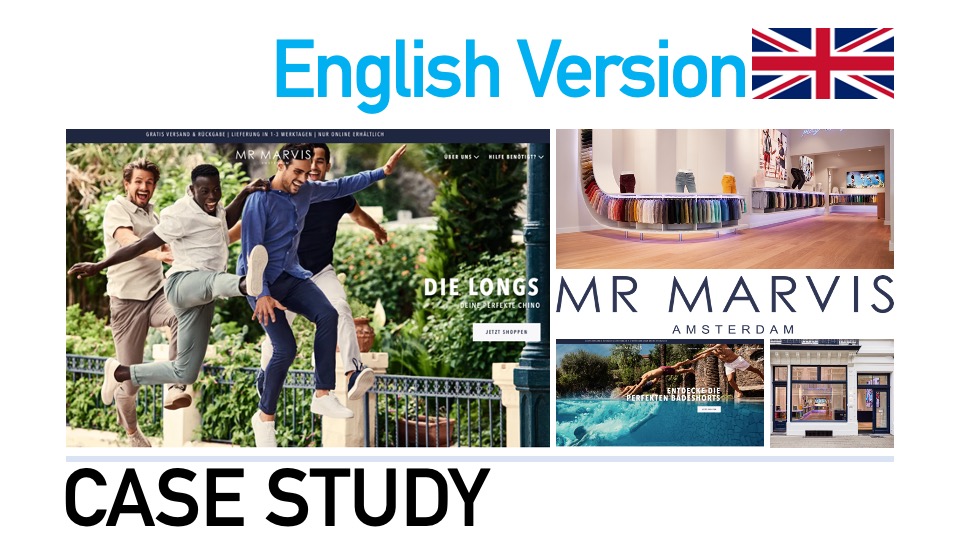 Nowadays, it is a real challenge to successfully establish a company in what is actually a saturated fashion market and to permanently establish a new fashion brand. MR MARVIS seems to have succeeded with its logical strategy. Let's take a look at the company's key data: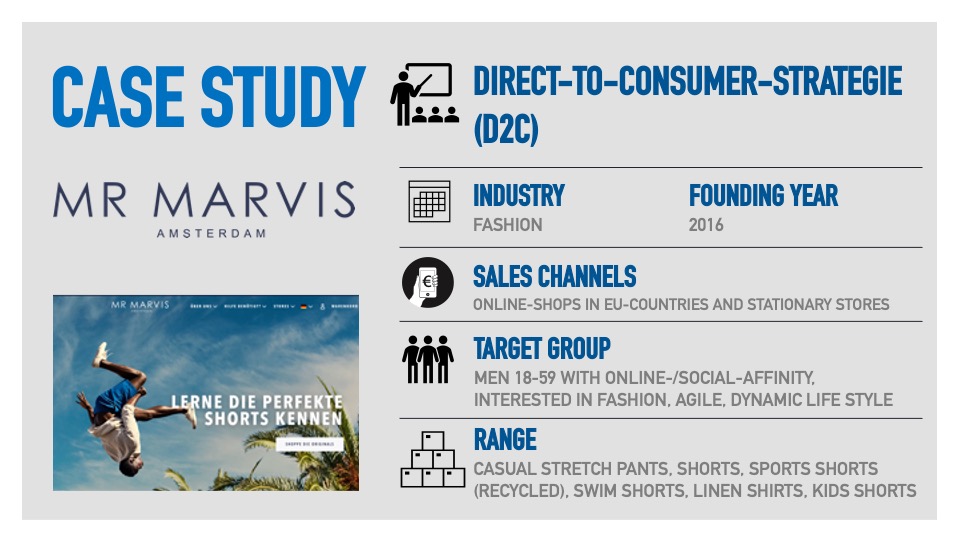 Objectives: Scalable growth in a niche
The goal of a D2C strategy is to address target groups directly and to activate them in a UX-optimized way at relevant contact points or touchpoints. Another goal is to scale sales with the help of data. An important basis for this is an almost perfectly implemented online store.
A success factor in the foundation of MR MARVIS was the selection of a clearly definable submarket as well as the clear and simple solution of a consumer problem existing there. Thus, MR MARVIS addresses the fit problem in the men's pants segment. Furthermore, the multifunctional use of trousers in both leisure and business contexts is targeted.
Processes: everything under own control
D2C providers aim to control all processes themselves: across the entire manufacturing and sales process starting from brand development and management to product manufacturing, packaging and cross-media communication in all digital and social channels. MR MARVIS has its products handmade in Portugal (near Porto) and manages sales via its own online store and the two brick-and-mortar stores. Customer service is also handled in-house.
Business model: clear priority for the online store supplemented by stores
Although many D2C brands were initially founded as pure Internet players in recent years, these increasingly opened physical stores as well, such as Peloton or the mattress manufacturer EMMA. The direct-to-consumer strategy is therefore not limited to e-commerce. Rather, D2C focuses on sales channels that involve a direct customer relationship. In addition to a web store or marketplace, this can also be a local store, a pop-up store or even an Instagram store. At MR MARVIS, the focus is clearly on the online store, which is internationally oriented to several European countries and optimized for cross-device use. So far, there are two stationary stores in Amsterdam and Antwerp.
Internationalization: Europe-wide expansion after successful online tests
To date, the MR MARVIS online store has a total of seven target markets, including the home market in the Netherlands, Germany, France, Italy, Great Britain, Spain and Denmark. The opening of new stationary stores in European countries can be tested and decided based on the success in already existing online retail markets.
Competition
Competitors in the market segment include Shaping New Tomorrow, REPLAY Hyper and L'Estrange London.
Social media and content strategy
Paid Media: MR MARVIS is (visibly) investing in paid media. With outstanding, visually catchy social ads as impulse, new customers are addressed via Instagram and Facebook and directed to call-to-action landing pages or directly to the online store.
Owned Media: MR MARVIS uses Instagram (as of 2022, around 69,000 followers) and Facebook (around 40,000 followers). Theme categories include: Staging Styles and Outfits, Travel Destinations, Mediterranean Lifestyle Inspirations, Sports, Leisure and Architecture.
Customer Journey of a D2C Fashion Company
The following figure shows a typical customer journey of a customer getting involved with a D2C company. Starting from an inspiring creative as a Facebook ad or an aesthetic Instagram ad in Mediterranean flair, the potential customer finally reaches the online store and is then supposed to buy. Subsequently, the fan or follower status in social media should enable customer loyalty. An e-mail newsletter is also offered as a supplement.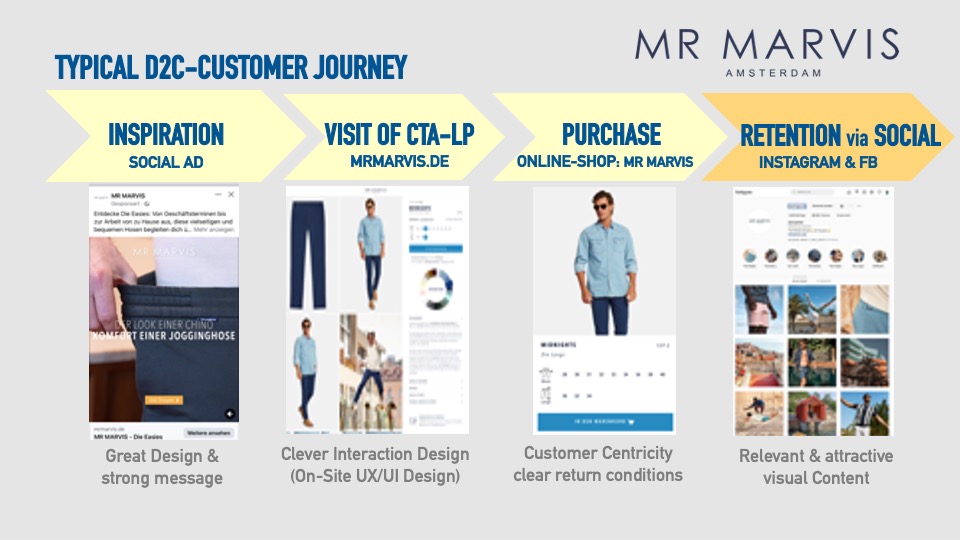 Cross-media approach and touchpoints
The communicative central idea aims to make the product's degree of innovation clear. ("The perfect shorts"). The creative central idea consists of a Mediterranean-influenced imagery. Beautiful Italian landscapes, an ever-sunny climate and the sporty dynamism of the model protagonists are intended to emphasize the sporty flexibility and simple elegance of the products. Ensuring cross-channel consistency of the advertising messages is shown in the illustration below.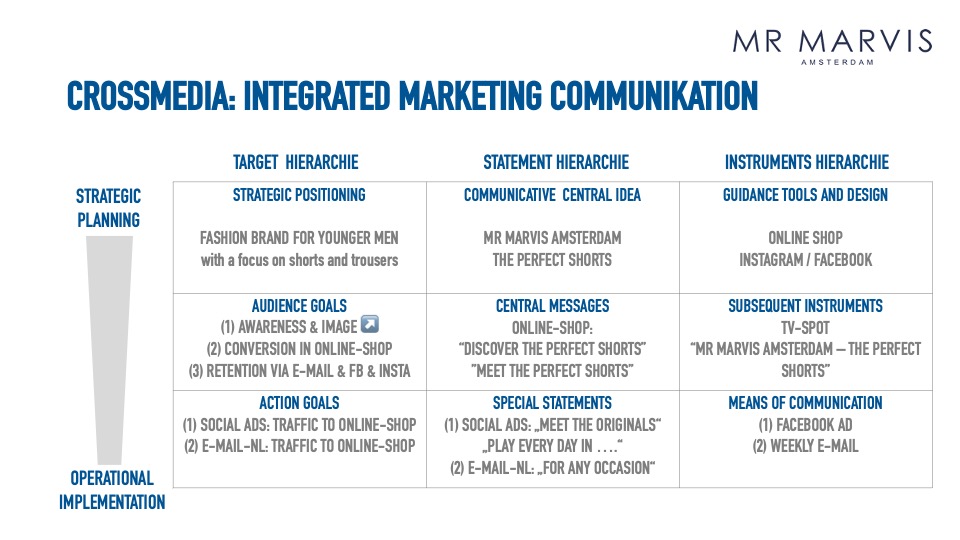 Data Strategy
MR MARVIS collects valuable first-party data from its own channels. In this way, the use and effectiveness of the online store is precisely analyzed and optimized for future campaigns. With regard to users, this includes, for example, the number of visits, typical navigation patterns, and the average time spent in the online store. At the same time, conversion and abandonment analyses of ongoing purchase processes are carried out. Further data sources can be found in the e-mail newsletter and in the results from the placement of social ads.
MR MARVIS uses retargeting with the help of the Facebook pixel, whereby visitors to the online store who have not purchased anything despite dwell time are subsequently reminded of the brand again through Facebook or Instagram ads.
MR MARVIS also applies direct marketing based on a CRM and sends printed promotional materials to the target group.
Business architecture (systems, software, tools, programs)
Webshop: Shopify
PoS logistics: Shopify PoS
CRM: Salesforce
Analytics: Tracify
Retargeting: Criteo
With a D2C offer, a lot of valuable data can be obtained and evaluated. Starting with analytics data on surfing behavior in the company's own online store, through customer service inquiries to social media activities of the target group. This treasure trove of data can help to bind customers to your own brand, improve products, and continuously optimize your marketing strategy.
---
Niklas Mahrdt
MEDIA ECONOMICS INSTITUT
August 2022
Suggested citation for this article:
Mahrdt, Niklas (2022): Case study on the D2C strategy of MR MARVIS. In: Media Economics Institute (ed.): Cross Science (2020). Science blog for digital & marketing. Web link: https://www.media-economics.de/cross-science/fallstudie-zur-d2c-strategie-von-mr-marvis/
(please cite with version date).
Further sources on the topic:
https://www.mckinsey.com/industries/consumer-packaged-goods/our-insights/should-cpg-manufacturers-go-direct-to-consumer-and-if-so-how
https://www.code.nl/de/cases/mrmarvis